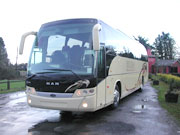 When you need to organise transport for a group it makes sense to book appropriate bus hire. Travelling by bus is very cost-effective and large groups have access to a range of options when they book their bus hire with us.
We have an assortment of options in our fleet in order to meet your requirements in terms of seating and comfort. Whether you are after luxury transportation or something more basic, we have a solution to suit you. We also offer mini bus hire at very competitive rates for smaller groups.
When you arrange your bus hire or mini bus hire with us, you can expect to receive a superb level of customer service. Our drivers are experienced professionals whose chief priorities are your safety and comfort and we are able to offer transport solutions for all manner of events and occasions, from school and college trips to staff outings.