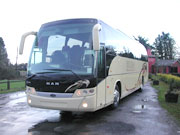 It is fantastic to be able to see Ireland by coach. When you want to discover the country in greater detail, there is no better way than to book a coach tour with us. Travelling by coach means that will not miss a thing on your journey.
One of the most important aspects of our coach tours of Ireland is comfort. We enable you to move from place to place in total comfort thanks to the quality of our fleet of coaches. Our coach trips are also incredibly cost-effective which means that seeing the unique attractions of Ireland, both natural and urban, both traditional and modern, is easier and cheaper than using other modes of transport.
You can rely on us to provide the level of customer service you expect when you take a coach tour with us. Our drivers exhibit the utmost professionalism at all times and they always have your safety, security and comfort in mind.